at Cooper Colony Golf

Club
First Tee is an international youth development organization introducing the game of golf and its inherent values to kids and teens. Through after-school and in-school programs, we help shape the lives of young people from all walks of life by reinforcing values like integrity, respect, and perseverance through the game of golf. And it's making a difference.
We are very happy to have in our Golf Course the first tee program, which will integrate the children of the city of Cooper City, which fills us with pride for contributing with our teaching a grain of sand in the formation of future men of the city.
Hector Zapata and Ivan Mayor
Professionals Golf Coaches.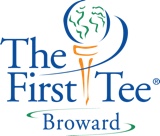 Our Clinic in Our Golf Club
Every Saturday from 10:00 a.m. to 11:00 a.m. and
Tuesday – Thursday 4:00 to 5:00pm
Our Objetives in every clinic:
Breathing Inhale and exhale with the Golf club
Warm up with the golf club
Association of the child with the Golf Club
Set up position body and Golf Club
Body and ball distance
Basic golf technique
Movement control with the Golf Club
Control the speed of the back and down swing in golf
Contact with the ball with the Putt and the chipping
Hit the ball in the direction of a target
Result of the shot